---
Muck Boots Woody Arctic
Neoprene
Vibram sole
Color: Bark/Mobuc Mini
Muck Boot Mens Arctic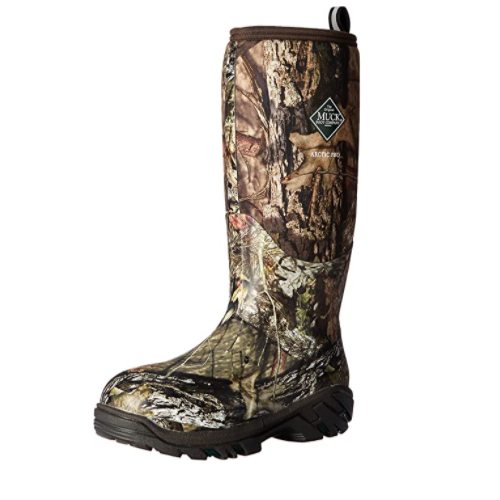 Neoprene
Rubber sole
Shaft measures
Men's Neoprene Muck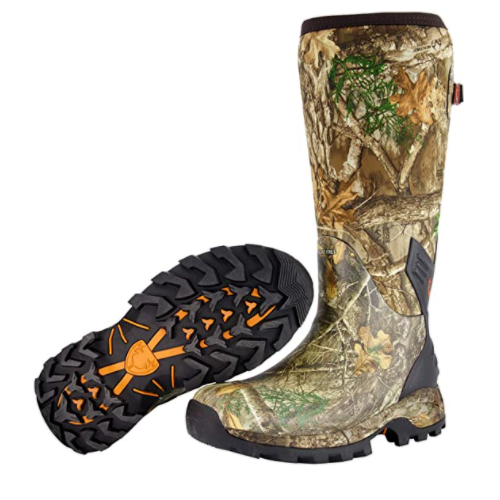 REALTREE XTRA CAM
SECURE ELASTIC CUFF
100% WATERPROOF
Muck Boot Unisex Woody
100% Synthetic
Imported
Breathable airmesh lining
MuckBoots Mens Pursuit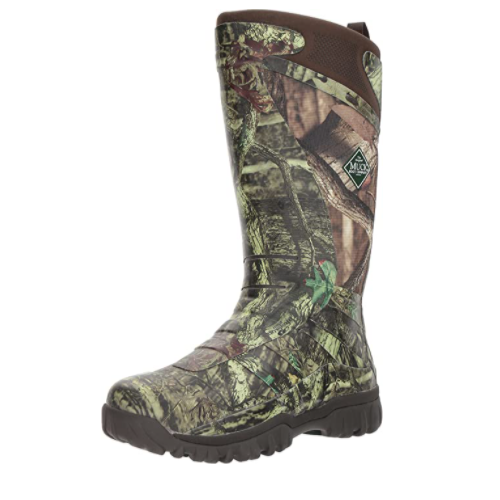 Rubber
Imported
Rubber sole
---
Choose the Best Muck Boots for Hunting
Customer's Choice: the Best Rated Muck Boots for Hunting
1 users answered this survey. Please help us improve this review!

100.00% of users selected Muck Boots Woody Arctic, 0.00% selected Muck Boot Mens Arctic, 0.00% selected Men's Neoprene Muck, 0.00% selected Muck Boot Unisex Woody and 0.00% selected MuckBoots Mens Pursuit. Every month we analyze your answers and change our rating.
---
Hunting can be a lot of fun, but it's also a very challenging sport. If you're looking to up your game this season, you need the right gear. One of the most important pieces of equipment is your boots. And when it comes to boots, there's no better option than Muck Boots! In this blog post, we'll take a look at some of the best Muck Boots for hunting. We'll discuss the features that make them so great and help you decide which pair is best for you!
Muck Boots Woody Arctic Ice
When the temperature drops and the snow starts to fall, gear up for your next adventure with Muck Woody boots. These boots are made for comfort and flexibility.
The comfort topline keeps out moisture while locking in heat, and the EVA midsole provides premium comfort. With extended rubber coverage and tough Spandura protection against wear, you'll be ready for any weather conditions. Plus, the Vibram outsole pods deliver unbeatable traction on slippery surfaces.
---
Muck Boot Arctic Pro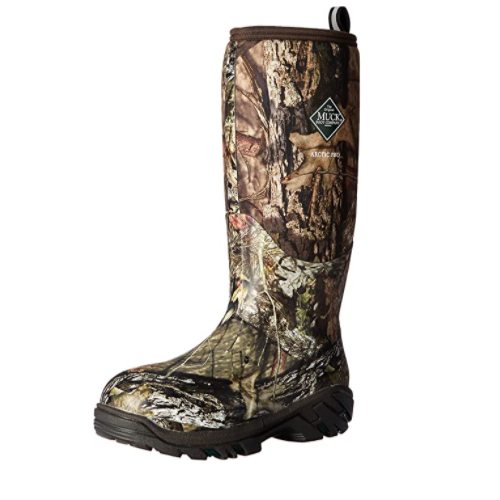 This is the perfect boot for those who need serious protection against the cold. The rubber sole and 8 mm neoprene provide comfort, flexibility, waterproofing, and heat retention, while the fleece provides warmth to your feet in even the coldest weather.
The stretch topline also keeps out debris and seals in warmth, while the double reinforcement makes sure that these boots are built to last. The boots are also comfortable rated from -60 °F to 30 °F.
---
HUNTSHIELD Muck Boot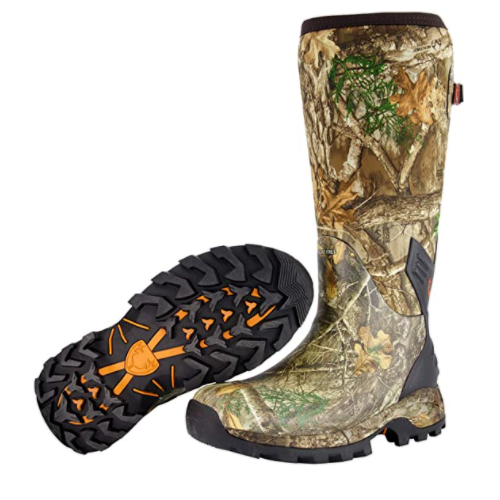 The Huntshield Muck Boots are the perfect solution for anyone looking for a comfortable and rugged pair of boots. Made out of waterproof rubber with Scent-Free Neoprene lining, these boots will help you stay focused on your hunt while providing all the comfort you need.
The adjustable back gusset and strap make it easy to customize the fit, and the removable molded PU insole and cushioned EVA midsole add even more comfort. The rubber outsole provides great traction, and the reinforced toe cap ensures that your feet will be safe.
---
Muck Boot Unisex
Do you love spending time outdoors, but dread getting your feet wet and muddy? Well, with Muck Unisex Boots, you can have the best of both worlds! These field-ready boots are made with 100% synthetic materials and a waterproof camo shaft, so they're perfect for keeping your feet dry and comfortable while you explore the great outdoors.
And with an EVA midsole cushioning and high breathability, you'll be able to stay on your feet all day long. Plus, the molded Speed-Tracker traction outsole will keep you safe no matter where your adventures take you. So don't wait any longer – order your Muck Unisex Boots today!
---
MuckBoots Pursuit Supreme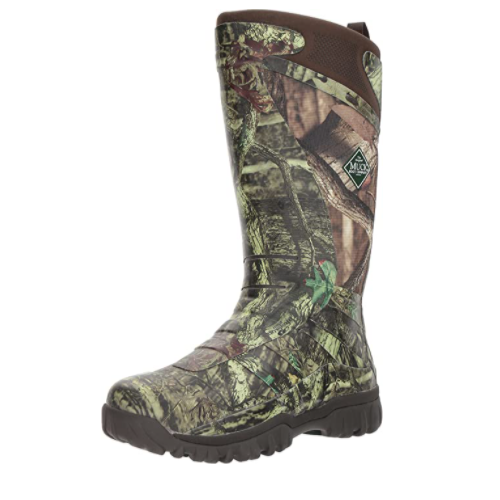 When you're in the pursuit of your next trophy, you need the very best gear to help you succeed. That's why MuckBoots has created the Pursuit line of rubber boots – designed with hunters in mind.
The 5 mm neoprene construction provides superior waterproofing, comfort, and flexibility. With optimal flex points and a resilient forefoot stability cage, these boots are perfect for anyone who wants to move fast and stay safe in any terrain.
---
Buyer's Guide
Why Every Hunter Needs a Pair of Best Muck Boots For Hunting?
There are many reasons to wear a pair of Muck boots for hunting:
Comfort – Muck boots offer the best comfort, especially when you plan to spend many hours in them.

Protection – They keep your feet protected from mud, rocks, or snow while hunting or fishing. You can also use them during cold weather conditions such as ice fishing trips.

Design – The design of these boots is perfect for any type of terrain, whether it's wet or dry. They are available in different colors so you can choose the one that suits your preferences best!

Versatility – Muck boots can be used for hiking and camping as well as fishing trips or other outdoor activities such as hunting. These versatile shoes offer comfort while protecting against harsh conditions outdoors (e.g. rain, snow, mud).

Insulation – Most Muck boots are insulated to keep your feet warm in cold weather and dry when it's wet outside. They also offer protection from rocks or other sharp objects so you won't get hurt if something falls on top of them while hiking through the woods!

Durability – These durable shoes can last for years without showing any signs of wear and tear from use.

Price – The price of muck boots is usually much less than other types of hunting footwear. They are also cheaper because they don't require any maintenance as leather does!

Style – Muck boots come in many different styles so you'll find something that matches your personality or preferences best! You can choose between classic black, brown, or camo colors, or go for a fun design that shows your personality.
So if you are looking for a good pair of boots to wear while hunting, make sure to check out the Muck brand! They are known for their high-quality and durable products that will keep your feet comfortable and safe during your outdoor adventures.
Types of Muck Boots
There are two basic types of muck boots: utility and pursuit.[1]
Utility – The utility boot is designed for general use and is the most popular type of muck boot. It has a neoprene upper, rubber shell, and synthetic sole. This style is typically taller than the pursuit boot, providing extra coverage and insulation. Moreover, the utility boot is also more flexible than the pursuit boot, making it a better choice for general use. They are available in both men's and women's styles. Utility boots are best suited for hunters, who do not need the ankle support of pursuit boots.

Pursuit – The pursuit boot was created specifically for hunting. It has a GORE-TEX® waterproof and breathable membrane, which keeps your feet dry while allowing them to breathe. It has a rubber upper and shell with a Vibram® sole, providing durability and stability in harsh conditions. The pursuit boot is typically shorter than the utility boot, providing less coverage and insulation. However, it is more rigid than the utility boot, making it a better choice for hunting.
Which type of muck boot is right for you? That depends on your needs. If you need a general-purpose boot for any weather, go with a utility boot. If you need a boot specifically designed for hunting, go with a pursuit boot.
What Are Muck Boots Made of?
The most important feature of any muck boot is its materials. Muck boots are designed to be 100% waterproof, and they're made with a variety of materials to make that happen. Here's what you need to know about these three materials: [2]
Neoprene boots: Neoprene is water-resistant and flexible, making it ideal for muck boots. It has closed cells, which means that it doesn't allow any air or moisture inside the boot. This makes neoprene boots a good choice for wet, cold climates. Moreover, neoprene is flexible even when it's cold, so you can wear these boots in winter without losing any mobility. However, they are the most expensive type of muck boot.

Rubber boots: Rubber is the most popular material for muck boots because it's durable and waterproof. It also has a high thermal insulation rating, which means it keeps your feet warm in cold weather. In addition, rubber boots are easy to clean and very durable. However, rubber can be heavy and stiff, so it may not be the best choice for people who need a lot of flexibility in their boots.

Synthetic boots: Synthetic materials are used in muck boots to provide lightweight comfort and breathability. They're also waterproof, making them an excellent choice for wet climates. Moreover, synthetic boots are very affordable, so they're a great choice for people on a budget. However, they don't have as much insulation as rubber or neoprene, so they may not be the best choice for cold weather.
So, which material is the best?
It really depends on your needs. If you want a lightweight boot that will keep your feet dry and warm, you should go for neoprene. If you want a durable boot that can withstand rugged conditions, rubber is the way to go. And if you want a versatile boot that's affordable and breathable, synthetic materials are the way to go.
How to Choose the Best Muck Boots for Hunting
Muck boots are perfect for hunting because they keep your feet warm and dry. However, with so many different styles and brands available, it can be difficult to determine which ones will work best for your needs.
In order to help you choose from all of the options, we've compiled a guide with the most important features to think about.
Waterproofing Features
When you go hunting, you want to make sure that the boots you wear are going to keep your feet dry and warm. There is nothing worse than being out in the cold all day long with wet socks! 
Fortunately, muck boots have been designed specifically for this purpose; they'll keep your feet dry no matter what kind of weather you encounter while on the hunt.
If it rains or there's snow on the ground – these boots will keep you comfortable throughout an entire day spent in the wild. They are also great if you need to walk through mud or water during cold seasons!
The reason why many hunters choose muck boots is because of their waterproofing features. When you're out in the cold and wet, your feet will stay dry and warm all day long.
However, not all muck boots are created equal. Some have better waterproofing features than others. That's why the first factor we discuss today is waterproofing.
When it comes to hunting, there is no one type of boot that works well in all conditions. If you're going out into the woods and expecting heavy rain, then a pair with good insulation might be better suited for the job. 
However if you're just walking around town looking casual or playing sports – then some other style might be better for you.
Waterproofing is measured in inches of water that the boot can withstand before getting wet. For example, a pair of rubber boots rated at 20 inches will allow up to 20 inches of water depth before getting wet. This means that if it rains heavily enough (more than an inch), then the boot will get wet inside and out.
If you are going hunting where there is snow or other sources for moisture in the air – this could be a bad combination. So if you are looking for a waterproof hunting boot – make sure to find one with a good waterproof rating.
Depending on your environment, you may need more or less waterproofing than another person does. 
For example, if you live close to the beach or in a humid climate – then you will probably want boots with less waterproofing than somebody living up north.
If it rains often where your hunting area is located, then choose a pair of muck boots that come highly recommended for wet weather conditions. 
The best muck boots for hunting will have waterproofing features that ensure your feet stay dry even when you're wading through deep water or slogging through mud.  
Look for boots with a GORE-TEX lining to keep moisture out, and make sure the seams are sealed so there's no chance of water seeping in.
Gore-Tex is a waterproof and breathable fabric membrane that is used in a variety of outdoor gear. It helps keep your feet dry while allowing sweat to escape, so you don't get sweaty and uncomfortable inside your boots.
When it comes to waterproofing, make sure to find a boot that is rated for your specific needs. Choose the best muck boot for your needs.
Comfort
The next consideration for the best muck boots for hunting is comfort. You will be wearing your boots for extended periods of time, so it's important that they are comfortable.
Look for a boot with a cushioned insole and ample room in the toe box. The ideal boot will be lightweight yet durable with a flexible, rubber upper.
Although you might be thinking about the summer months when hunting for your new muck boots, it's important to think about the winter months as well. Some hunters may prefer to hunt in warmer weather while others like to brave the cold and snow. Consider both scenarios when shopping for the best muck boots.
In addition, consider whether or not you will be wearing your hunting waders with these new muck boots. If so, do you plan to wear them over your pants or under your pants? This will help determine how much room you need in the toe box and heel area of the boot.
Muck boots are waterproof, but you'll still want to make sure they have a solid rubber upper and sole. You don't want anything too flimsy that will allow water to seep in through the seams or stitching. Many muck boots also come with an anti-microbial lining which helps prevent odor and keeps your feet dry when hunting in wet conditions.
Muck boots come in a variety of heights and styles, so you're sure to find one that suits your needs. Whether you prefer ankle-high or knee-high muck boots, there are plenty of options available at affordable prices online and offline as well.
The neoprene lining on many muck boots also helps keep your feet dry and warm. The neoprene will conform to the shape of your foot, making it more comfortable than traditional rubber boots. It also provides additional support and helps prevent blisters while wearing your boots all day long.
You also want a boot that is lightweight, so you don't get tired quickly while wearing them all day long. If you are hunting in cold weather, look for models with insulation or liners to keep your feet warm.
Many of the best muck boots for hunting also have a reinforced heel, which helps to prevent you from slipping on the wet or muddy ground.
Some models even come with an adjustable gusset at the top that allows you to cinch the boot up around your calf for a more secure fit. This can help keep out mud and water.
If possible, try on the muck boot before purchasing it to ensure that it fits correctly and provides the support you need.
Insulation
Another important factor to consider when purchasing a hunting muck boot is insulation. The last thing you want is your feet to get cold while out in the field.
Most good-quality muck boots will have some form of insulation, but it's important to read the product description to make sure that the pair you select meets your needs.
Some boots are designed to keep your feet warm in cold weather, while others are made for warmer climates.
There are many different types of insulation, but let's take a look at the most popular:
Thinsulate is a synthetic fiber that provides better thermal insulation than natural materials like wool. Moreover, it's lightweight and compressible, making it a good choice for boots that need to be packed away. Thinsulate nowadays is being used in all sorts of products, from clothing to sleeping bags.

Down insulation is made from goose or duck feathers. It's very warm, lightweight, and compressible. In addition, it's water-resistant and can keep your feet warm even when wet. Down also has natural odor-resistant properties, which is a plus if you're going to be wearing your boots for an extended period of time. However, down insulation is not as durable as other types of insulation and can lose its loft (fluffiness) over time.

Wool is a natural fiber that has been used for centuries to insulate clothing and footwear. It's warm, lightweight, durable, and water-resistant (though not waterproof). Wool also tends to keep its loft better than down insulation over time. Moreover, wool does not lose its thermal properties when wet. However, it's important to note that muck boots made with wool are usually more expensive than those made with synthetic materials like Thinsulate or down.

Fleece is a synthetic material that was originally developed in the 1970s as an alternative to natural fibers like wool and cotton. It's made from polyester, but there are many different types of fleece with varying amounts of insulation. Most muck boots use a low-loft fleece that offers some warmth without being too bulky or heavy.

Primaloft is a synthetic alternative to down. It's very lightweight, compressible, and water-resistant. It also has natural odor-resistant properties. Moreover, Primaloft insulation retains its thermal properties when wet, making it a good choice for boots that may get wet while hunting.
There are also other types of insulation, like synthetic fur and thermal plastic elastomer (TPE), cotton, etc. but they are not as common in muck boots.
Generally speaking, you want your muck boot to have an insulation rating that matches or exceeds what you'll experience in the field.
For example, if you're going to be hunting in an area where snow is common and temperatures drop below freezing at night, then you might want a muck boot with insulation rated above 1000g. If it's going to be cold but not that cold (i.e., no snow), then an 800grating would suffice.
If you're going to be hunting in a warmer climate, then 400g will keep your feet warm enough without being too bulky. It's also important to note that the weight of insulation is not an exact science because different brands use different methods for measuring it (some measure per cubic inch while others measure per square foot).
That being said, you can use the insulation ratings as a general guideline when choosing a muck boot.
Breathability
One more key feature to look for when shopping for the best muck boots for hunting is breathability. You want your feet to stay as dry as possible, so make sure the boots you choose have good ventilation.
Breathability is especially important if you plan to be in your boots for more than a few hours. If you are wearing heavy socks, breathability is even more crucial as moisture can build up between the boot and sock and cause blisters.
The best muck boots for hunting will have a mesh lining that encourages airflow so that your feet stay dry and comfortable all day. Mesh linings can be found on both the inside and outside of a pair of muck boots.
There also can be ventilation holes on your muck boots to further increase airflow. It is important to make sure that the ventilation holes are small enough so that debris and moisture cannot enter your boots.
However, if you are hunting in cold weather, you may want to close the ventilation holes so that your feet stay warm. The best muck boots for hunting will have a versatile design that allows you to adapt them to different conditions.
Breathability also can be achieved by having a sock liner that wicks moisture away from your feet. It means that the moisture will be wicked up through the sock liner and can escape out of your boot so that your feet don't get sweaty.
Make sure to read reviews for some idea about how effective the breathability is, especially if you plan on wearing thick socks or walking long distances in hot weather.
If your budget allows it, waterproof muck boots may be a better option than breathable ones as they will keep your feet dry even in the wettest conditions. However, waterproof boots are not always as breathable as non-waterproof ones so are sure to consider your needs before you make a purchase.
Tip: If your boots are not breathable, you can create your own ventilation by cutting small holes in the waterproof membrane. Just be careful that the holes are not so big that water can enter your boots easily.
Height and Ankle Support
The next consideration for the best muck boots for hunting is height. It should be taken into account because you want a boot that will keep you protected up to your calf. This is especially important if you plan on hunting in cold weather, as the snow and ice can easily seep into boots of lesser height.
There are a few different heights available for muck boots, so it's important to choose the right one for your needs.
For example, if you're going to be hunting out in the field and need a boot that will keep your feet dry while still giving you support and protection, then an ankle-high muck would be an ideal choice. These are also great if you want something lightweight as they don't weigh much at all.
On the other hand, if you're going to be doing a lot of walking through cold, wet environments then a boot that goes up to your calf is recommended. This will provide you with more insulation and keep the snow and ice from seeping in.
A good rule of thumb is to choose a boot that is at least six inches taller than your ankle. This will give you plenty of coverage and protection from wet and muddy conditions.
The best muck boots for hunting also need proper ankle support. This is especially important if you are hunting in snow or ice, as these surfaces can quickly cause sprains and other injuries without the right amount of protection around your ankles.
Ankle support is provided by a number of factors, but the most important is the fit of the boot. Make sure that it's snug around your ankles so that they won't move around while you walk. If they do, then you can easily injure yourself. Moreover, look for a boot that has an ankle brace or strap. This will provide even more support and keep you safe while out in the field.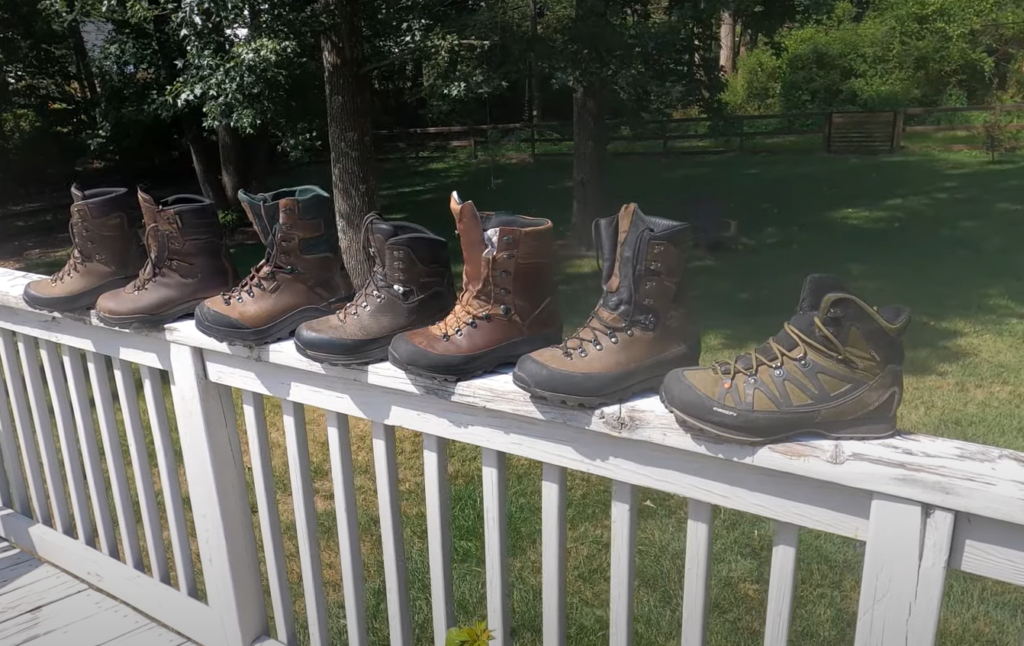 A good rule thumb when it comes to ankle support is that the boot should come up at least four inches higher than your ankle joint.
If your boots are too high, they can become quite cumbersome and difficult to walk in. If they are too low, they won't provide you with the necessary support against wet and slippery surfaces.
So, it's important to find the right height for your needs. When trying on a pair of boots, make sure you walk around in them to get a feel for how they will work with your specific activities.
Traction
Another thing to consider when looking for the best muck boots for hunting is traction. Look for boots with a lug sole pattern that will provide good grip in wet and muddy conditions.
You will find that your footing is more secure with a boot that has good traction since it provides added grip on mud, slush, snow, or any wet surface you might encounter while hunting. Since hunting often involves a great deal of walking, it is important to have a boot that will keep you stable and safe.
Traction is especially important when hunting in colder climates. Icy or snowy surfaces can be treacherous, and a boot with good traction will help you stay on your feet while traversing these conditions.
Some boots come equipped with spikes or cleats for added traction in slippery situations. If you are looking for a boot that provides great traction, be sure to check out those that have spikes or cleats.
Traction also depends on the material and design of the boot. A rubber outsole with a textured pattern can provide good traction without adding extra weight, which is important for hunters who may be carrying heavy packs on their backs or equipment in their hands.
If traction of your muck boots is not good enough, you can always add studs or cleats to improve traction. However, adding studs or cleats will add weight to the boot, so it is important to find a boot that already has good traction if you do not want to add extra weight.
Bad traction means you will struggle to walk, and your feet might slip. A boot with good traction is essential when hunting in the mud, snow, or any wet surface.
Muck boots are a great option for those looking for the best hunting boot because they provide good traction. The lug sole pattern on their boots helps to improve stability and balance in slippery conditions, making it easier to stay upright even when crossing difficult terrain. If you're looking for a reliable pair of boots that will help keep you safe while hunting, be sure to check out Muck boots.
---
FAQ
What Muck boot has the most insulation?
Muck's Arctic Pro is one of the best-insulated boots. They feature a fleece lining and extra insulation to keep your feet warm in extremely cold conditions.
What boots are better than Muck boots?
The Muck Boot brand is the best known and most loved when it comes to muck boots. However, there are a couple of other great alternatives that you may want to consider including XTRATUF and Bogs.
Are Muck Boots good for rain?
Yes! They repel water with their rubber exteriors, so your feet will stay dry even in the wettest conditions.
What is the difference between hunting and hiking boots?
Hunting boots are typically taller, provide more ankle support, and have treads that are specially designed to help you maneuver through dense underbrush and slippery terrain. Hiking boots are shorter and lighter, making them a better option for shorter hikes that don't require as much ankle support and are on better terrain.
Why are Muck boots so popular for hunting?
Muck boots' rubber exteriors and insulation make them perfect for wet, cold, and slippery conditions – which are all common when hunting. Their ankle support also helps keep you stable on uneven ground.
Useful Video: Best Muck Boots for Hunting
Final Thoughts
No matter what kind of hunt you're going on, having the right gear is essential for a successful trip. Make sure to pack your Muck boots so you can stay comfortable and safe in any condition.
Muck Boots are the perfect hunting boot for almost any type of weather condition. They're waterproof, durable, and comfortable enough to wear all day long. Whether you're in the woods or out on a lake, Muck boots will ensure that your feet stay dry and warm throughout the hunt.
So consider all these factors before buying your next pair of muck boots. You can never go wrong with Muck and remember: if you're not comfortable, it's time for a new pair!
We hope this guide has helped you choose the best pair of muck boots for hunting! Be sure to check out our other hunting gear guides for more tips and information.
---
References:
https://www.thedrive.com/reviews/31281/best-muck-boots
https://fashionandmash.com/where-are-muck-boots-made/