---
Victorinox Swiss Army Classic SD Pocket Knife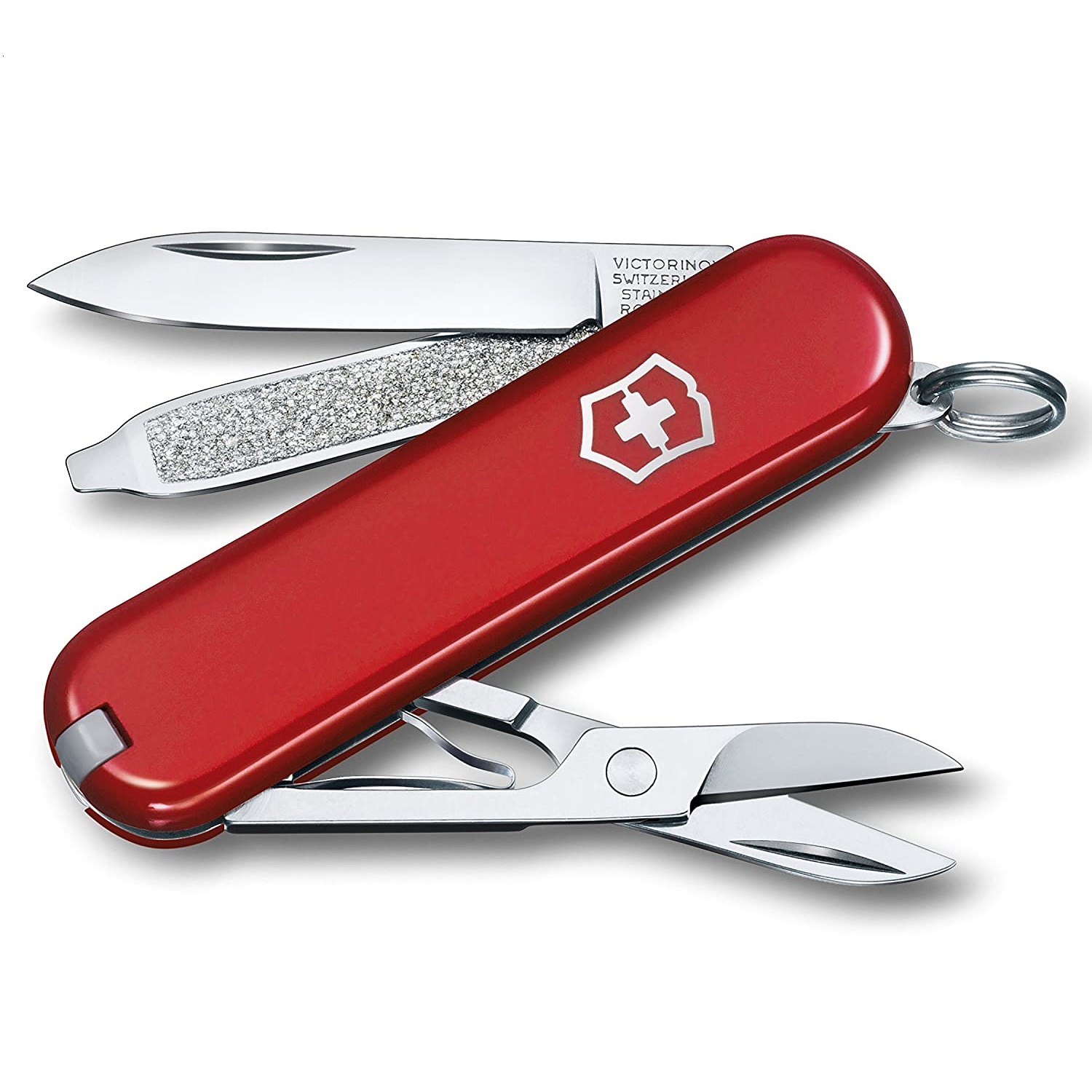 Color Red
Brand Victorinox
Blade Material Stainless Steel
Victorinox Swiss Army Multi-Tool, SwissChamp
Color Red
Blade Material Stainless Steel
Blade Edge Chisel
Victorinox Swiss Army Spartan Pocket Knife
Color Red
Item Weight 59.53 Grams
Blade Material Stainless Steel
Victorinox Swiss Army Swiss Champ Pocket Knife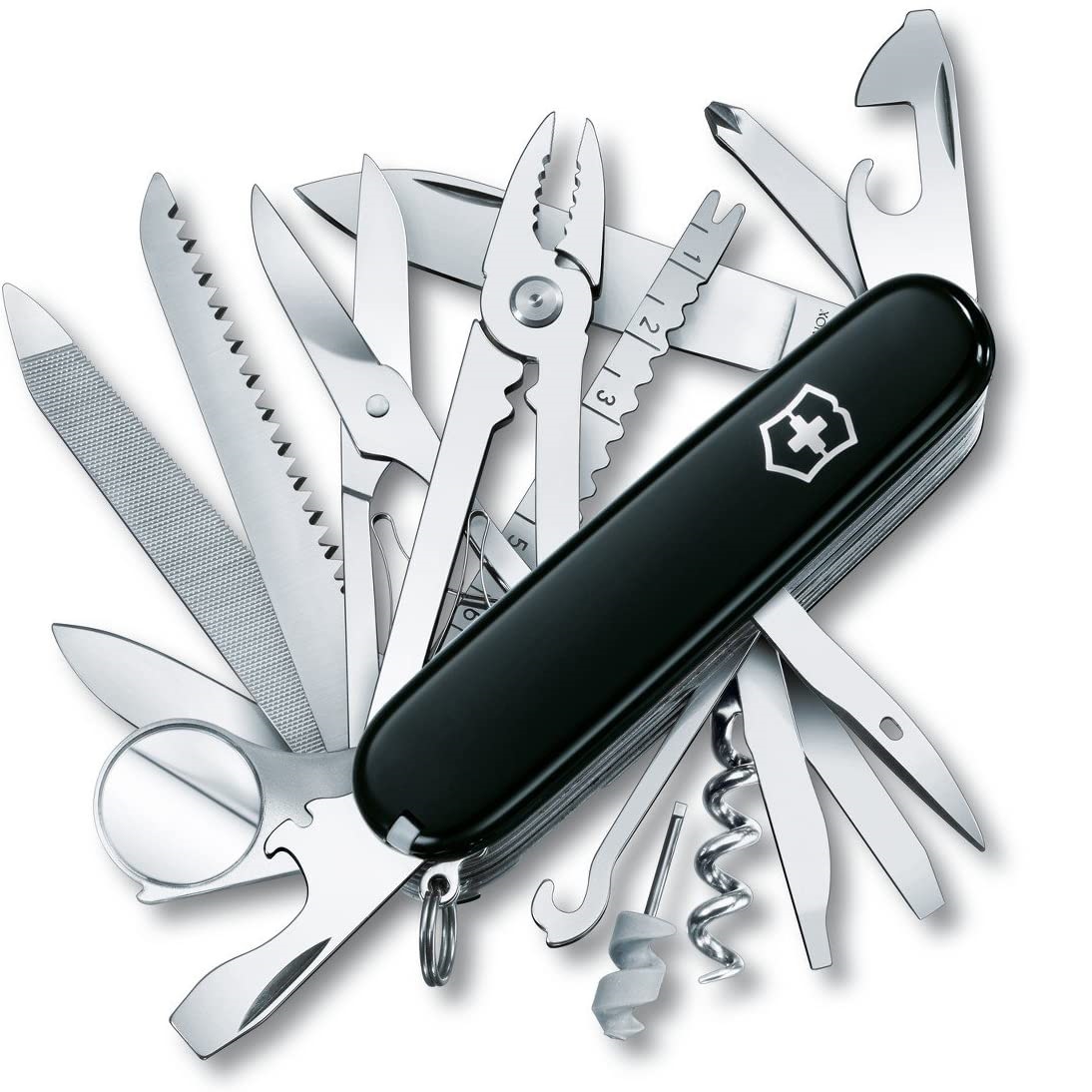 Color Black
Item Weight 6.5 Ounces
Blade Edge Chisel
Victorinox Swiss Army EvoGrip S18 Pocket Knife
Color Yellow/Black
Brand Victorinox
Blade Material Stainless Steel
---
Choose the Best Swiss Army Knife for EDC
Customer's Choice: the Best Rated Swiss Army Knives for EDC
2 users answered this survey. Please help us improve this review!

0.00% of users selected Victorinox Swiss Army Classic SD Pocket Knife, 0.00% selected Victorinox Swiss Army Multi-Tool, SwissChamp, 100.00% selected Victorinox Swiss Army Spartan Pocket Knife, 0.00% selected Victorinox Swiss Army Swiss Champ Pocket Knife and 0.00% selected Victorinox Swiss Army EvoGrip S18 Pocket Knife. Every month we analyze your answers and change our rating.
---
A Swiss Army knife is a hand-held device with several tools like tweezers, scissors, and blades. It allows you to tackle all kinds of minor problems in your day-to-day life. An everyday carry (or EDC) tool must be something that can provide benefits on a regular basis without demanding too much from its user or taking up lots of space. The best Swiss Army knives for EDCs do both: they're lightweight and compact enough to stay out of sight but useful enough that we don't forget we have them when we need them most!
Benefits of Swiss Army knives:
Multipurpose tool

– you can carry a single device that offers multiple functions;

Portable

– they are lightweight and easy to pack in your pocket or bag. No need for an extra bulky object when you have the Swiss Army knife with you at all times;

Durable quality

– the Swiss army knives come from a long line of tradition, so they hold up pretty well through wear and tear! Also, most models also offer a lifetime warranty, which is great if things break down accidentally after frequent use;

Highly functional

– Swiss army knives come with a large number of tools and knives that can be used for anything from lighting up a campfire to cutting open packages;
What are the best Swiss army knives for EDC? The following guide will do its best to answer that question! To start, knife experts listed some of their favorite models. Then, it goes into detail about why they're worth considering and what makes them stand out from the competition. Finally, you'll find a helpful FAQ section at the end with common questions that people have asked us in the past.
Victorinox Swiss Army Classic SD Pocket Knife – the Editor's choice!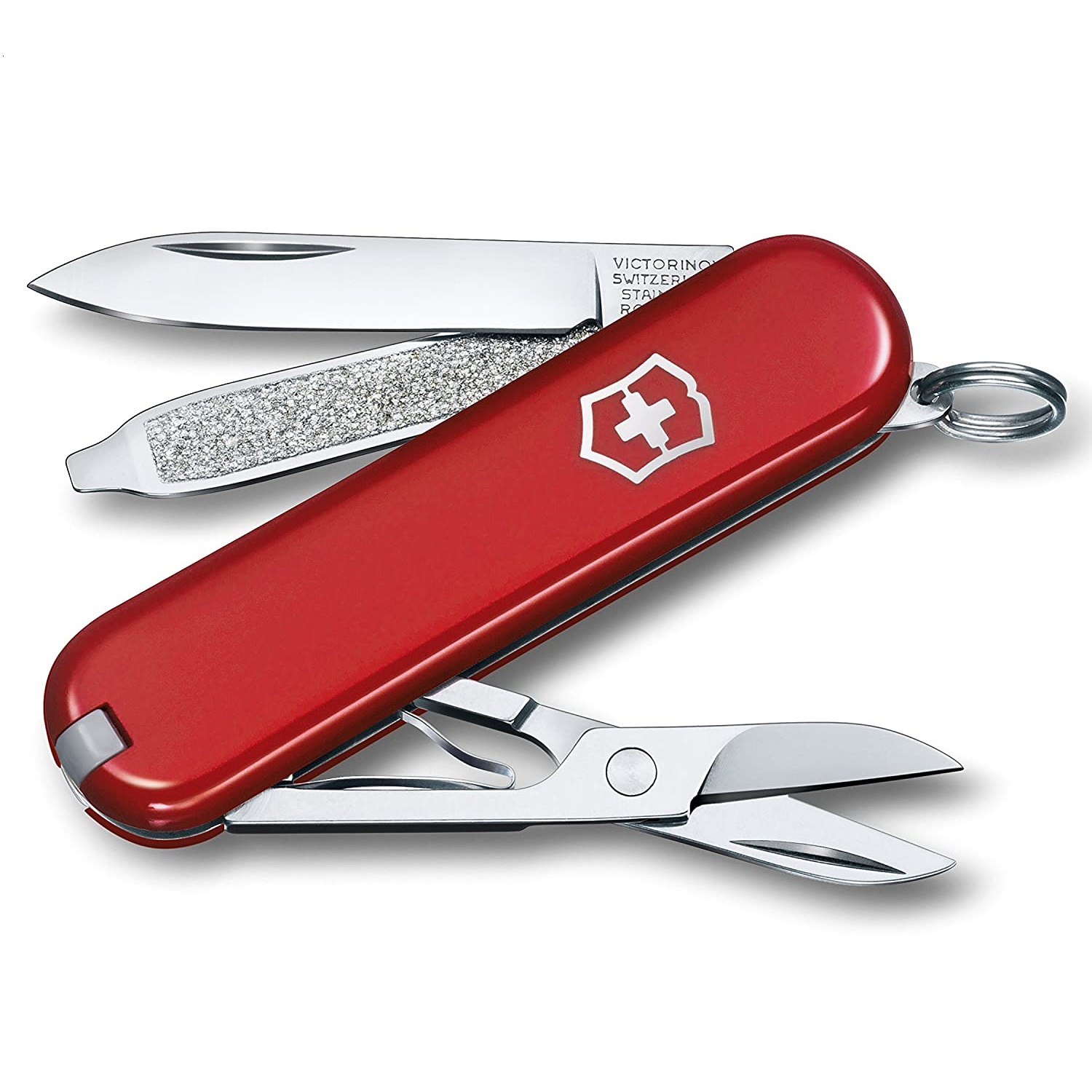 Compact and lightweight, the Victorinox Swiss Army Classic SD Pocket Knife is your key to self-reliance. It's so small it can fit onto a keychain or slip into your pocket so you're prepared on the go.
This nifty little tool takes care of all your sharpening, jabbing, and slicing needs with a few flicks of the wrist. Less than an inch in size for easy transport, it won't weigh you down at all.
Whether breaking a tensioner bolt free on a car's transmission shaft or fishing out a contact lens buried deep in your eye socket, this pocket knife is sure to find use. With one blade for cutting and ten other tools – including tweezers – there really isn't any job this gadget can't handle.
Victorinox Swiss Army Classic SD Pocket Knife is the premier tool for modern-day adventurers. This small, yet powerful multi-tool packs 13 different functions essential to your everyday life into one compact, portable folding knife that is built to provide you with a lifetime of use.
Victorinox Red Swiss Champ Pocket Knife – the best for many tools included!
You have just found one of the most useful tools you'll ever need. The stylish red Swiss Champ Pocket Knife by Victorinox features 33 tools, so it's on your side wherever life takes you.
It has a built-in ruler with measurement graduations up to 12 inches long on one side and millimeters on the other, plus an ergonomic handle designed for comfort during prolonged use!
You can pull out the Swiss Champ knife when you're preparing food or repairing something at home or work, then put it away easily with its locking blades (not that they will come into play unless someone is after your blade).
It's a knife, it's a plier, and it has everything else you'll need for your day-to-day needs.
The Victorinox Swiss Champ Pocket Knife is more than just a knife. This multi-tool comes with 33 important and innovative functions, such as pliers and a rotating, wire-stripping tool. Combat-tested and approved for EDC as well as for survival, this pocket essentially does it all for home or on the go so you can be prepared for anything.
Victorinox Swiss Army Spartan Pocket Knife – the best for portability!
Do you need a pocket knife with the durability of a tank and all the functionality of a Swiss Army Knife? Introducing Victorinox's Spartan Pocket Knife.
This badass little knife sets up camp in your pocket with its rippled aluminum handle, stainless-steel components, and ultra-solid nylon grip.
The multi-tool knife includes a large blade, a small blade, and other handy tools: a can-bottle opener, wire stripper, and more! Their newest Spartan addition also has powerful stainless steel components to make sure your Swiss Army knife is there for you when you need it most.
For example, a bottle opener helps you crack open those cold ones without cracking your knuckles as you cut two cans down to size using this knife's sturdy blade. Your handy corkscrew lets any wine lover know that they can find their way out of any jam anytime – day or night – because it also comes equipped with scissors, tweezers for delicate precision jobs, etc.
A pocket knife with precision blades and tools! It's the perfect size for any task. From its compact design to its amazing use of materials, Victorinox Swiss Army Spartan Pocket Knife has everything you need in a tool that will never let you down.
Victorinox Black Swiss Champ Pocket Knife – the best for easy access!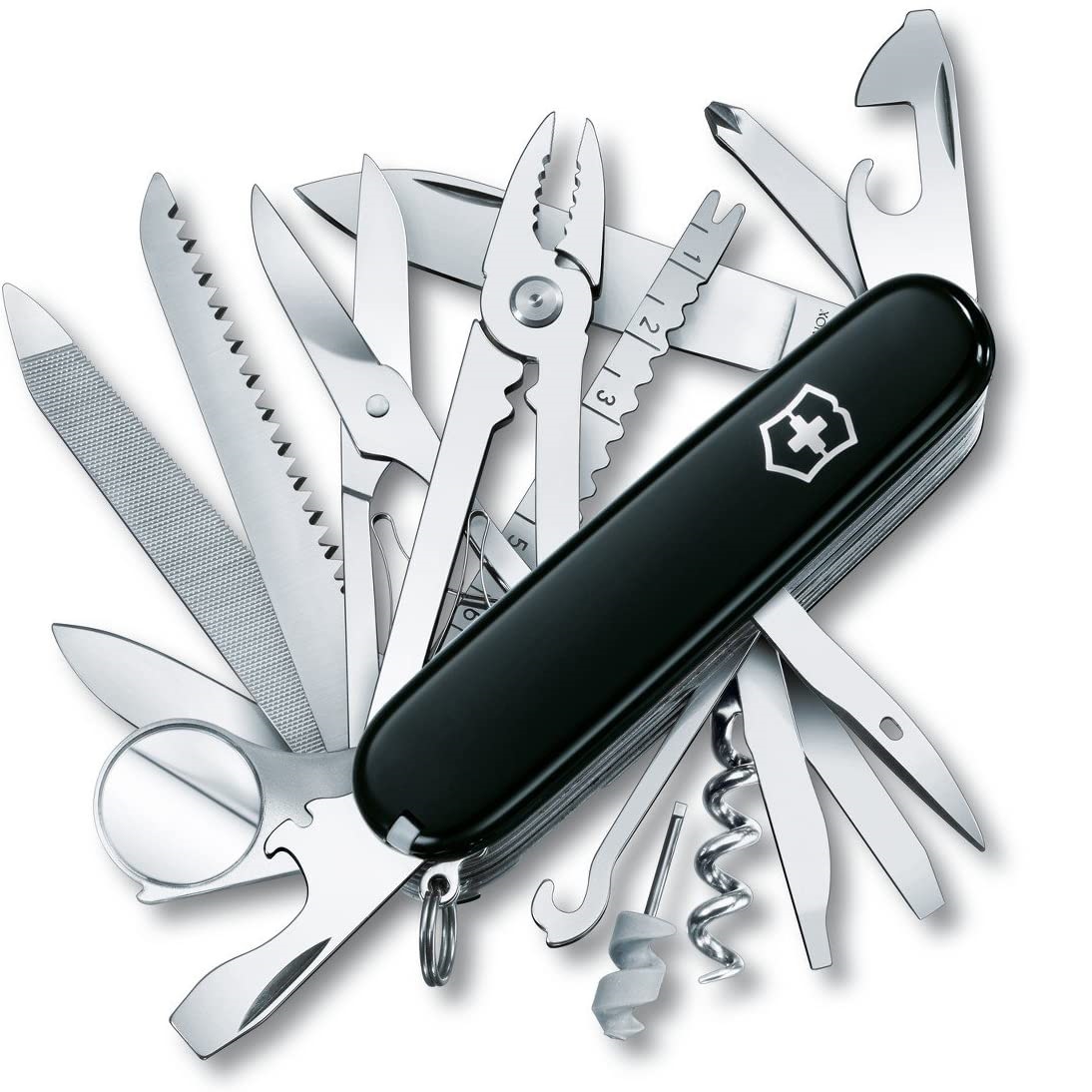 The Swiss Champ Pocket Knife is the perfect tool to take with you on all your journeys. Made of top-quality materials and built for durability, this knife not only has great functionality, but it also looks good too.
Bigger than other knives in the Victorinox line, which feature 33 functions total, this beauty can pack tools into 19 different implements including:
an awl – which bunches up just the right amount of layers when sewing something together;
a keyring with integrated nail cleaner so you don't catch pesky hangnails every time you're out camping or hanging out by yourself;
serrated edges so you can always cut through anything in between two slices of bread or no loaf at all;
This Swiss Army knife is a top-quality multi-tool that has never been easier to use thanks to its unique bendable design, which allows for the blade and other tools to be used independently!
Victorinox's sleek, modern design of this knife makes it perfect for the outdoors. While its compact size still has plenty of room for your necessary tools, there are 19 other functions at your fingertips! You can't go wrong with this sturdy ally as you journey through life.
Victorinox Swiss Army EvoGrip S18 Pocket Knife – the best for design!
The EvoGrip S18 can become the perfect ergonomic knife for your busy day. Never again will you struggle to find the right tool because this clever design includes 15 functions in one pocket knife. The stainless steel blade is about 2.5 inches long, which will do the job for most jobs – even delicate work like whittling kindling or skinning game.
Alongside other daily carry essentials (keys, coins), this compact shape slips easily inside pockets and purses without adding bulk while still providing easy-to-access design features like a rubber grip and locking blade to make sure everything stays put when you need it most – just be careful!
Pick up the Victorinox Swiss Army EvoGrip S18 Pocket Knife today and use it for years. This chic, sleek knife will make you feel like James Bond. The stainless steel blade comes with 15 functions and has a rubber grip making it easy to use while on the go. Its compact size makes it ideal for keychains, which makes grabbing life saving items quick and easy under any conditions!
The Buyer's Guide
Types of Swiss Army Knives for EDC (everyday carry)
There are 3 main types of Swiss army knives for EDC (everyday carry): classic, multi-tools, and keychain tools. 
A classic pocket knife with multiple foldable blades, which can be opened using only one hand. Many models have locking systems that prevent them from opening in your pocket or while they're being used. 
Multi-tools come with pliers and other multipurpose features like screwdrivers and bottle openers; however, these don't feature any blade at all. 
Finally, there are also small folding keys that fit on your keychain, but provide you with convenient options such as tweezers or mini scissors to help you out when you need it most! 
Main Features:
Materials of Swiss Army knife:
Stainless steel + Aluminum or Titanium handles
The best knives are made of stainless steel blades and materials like titanium or aluminum for the handles. This is because these metals can withstand more abuse than other types of metal alloy (such as carbon steel) without chipping, cracking, or wearing down easily. Their high melting points also make them ideal for knives that need to stay sharp even at high temperatures (like when you're cooking). 
However, they require regular cleaning and oiling since their smooth finish makes them prone to stains. These knife blanks tend to be pricier compared with those made from carbon steel but this isn't always true; some manufacturers use premium quality yet affordable blade alloys in their products which offer the best value for your money.
In some cases, the manufacturer may use a combination of materials in their knife blades and handles depending on how much abuse they can take and/or how expensive or easy to produce certain parts are (for example, stainless steel bolsters but carbon steel blades).
Stainless Steel + Chromium, Molybdenum and Vanadium alloys
Chromium provides hardness while also improving durability & edge retention. 
High Carbon content is what gives knives that famous "stainless" look without rusting when exposed to water, oxygen, etc. 
However, it makes them weaker than other blade alloy metals like Molybdenum & Vanadium. Molybdenum reduces brittleness while providing the steel with increased toughness. Adding too much of this material can reduce hardness though (this is why some manufacturers prefer to use it in conjunction with Chromium). 
Lastly, Vanadium helps improve wear resistance and strength without affecting flexibility or making blades brittle like Chromium does when used alone.
The best Swiss Army knife has a blade made of either Chromium alloyed with Carbon (marked as 440C stainless) or one that uses both Chromium and Molybdenum alloys (marked as 420HC). The latter combination provides better edge retention than just plain chromium blades do but will not hold an edge quite as long compared to those which use Chromium and Carbon.
Blade Sharpness
Swiss Army knives with blades that are ground to a single bevel (meaning the edge is sharpened on only one side) such as shaving razors can provide you with an extremely sharp blade but this type of cutting surface will quickly dull when used for piercing tasks like splitting wood or stabbing tough objects. 
This design also makes it harder for them to cut through things in a push/pull action rather than slicing actions which most people use while prepping food, dressing game, etc. Thicker blades & serrated edges help increase their ability to work against tougher materials without breaking or chipping though. 
A multi-purpose knife requires both easy penetration into surfaces along with smooth cuts across those surfaces; this is why the best Swiss Army knives use blades that are either plain or with a hollow-grind design (meaning they're ground in such a way that leaves the final edge thicker at its spine and thinner towards its cutting surface).
The most versatile blade designs have flat edges along with large serrations on their backsides that provide you both slicing & easy penetration into surfaces. Some models also have small serrations near the tip of their blades to help improve control while making detailed cuts across surfaces. 
The number of teeth present in a knife's serration will determine how fine/coarse its cut gets though more isn't always better since it can cause stress build-up when used against tough materials resulting in chipping, breaking, etc. Having a small number of large serrations will help reduce this stress while providing smooth cuts under most circumstances.
Size and Weight
It depends on the brand. The Victorinox Swiss Army Knife is a very compact knife, but it has all the tools you need. 
The Wenger company manufactures a larger model with more features and options for different needs. This also makes them heavier than their smaller counterparts from both brands! 
Many other models have been created by various manufacturers as well to suit your specific set of requirements. These knives often come in small sizes that look like keychains or medium-sized ones which can fit easily into pockets without being too bulky! In fact, some models might even be considered stylish enough to wear around on necklaces or bracelets so they're still accessible at any time when needed most! 
Handle
The traditional knives have stainless steel handles, but newer models may include plastic and aluminum alloy as well. Aluminum-alloy scales are becoming increasingly common because they help keep weight down while still providing excellent durability for daily use and outdoor activities.  Plastic scales may be cheaper and lighter than aluminum-alloy, but they are usually more difficult to grip.
Selection of Tools 
One of the most important things to consider when choosing an EDC knife is the selection of tools for your particular needs. Do you want a blade, pair of scissors, nail file, or anything else? These are often sold as interchangeable kits so if you don't need one tool it might be worth looking at another kit that has what you do need and less that you don't. 
For example, you might be able to get a tool in your kit that does the work of two:
Can opener

(with a small screwdriver);

Bottle opener

(large blade and wire stripper);

Cuticle pusher with nail cleaner

(combination tool);

Scissors

(eyeglass screwdriver on some models, fine-edge blade on others);

Nail file

(with screwdriver tip);

Tweezers

(toothpick on some models, magnifying lens and LED light on others);

Toothpick

(some models handle a ballpoint pen as well. Large blade is included in all but the smallest Microlight model);

Keyring opener with felt pad for striking matches or lighting candles

(some older knives include a leather punch instead of a keyring tool);
Some Swiss Army Knives even have mini-screwdrivers inside the handle of the knife! One thing is sure: once you get one (or several), it will quickly become an essential accessory that should never leave your side. 
Top Brands:
Victorinox;

Wenger;

Leatherman;

Gerber;

SOG;
Accessories for Swiss Army knife: 
Quick-release pins

– they allow you to replace parts of the knife with ease;

Replacement blades

– having many spare blades is always great for your favorite Swiss army knives. Replace dull blade and keep on going! Blades come in different sizes, depending on what size screws are used by your knife model. Keep it sharp, but be careful not to hurt yourself while using those awesome tools;

Lanyard with keychain

– a great thing for your Swiss army knives. You can attach it to any loop or ring on the knife and keep it always at hand, no matter what you are doing. It's also a good tool when in need of a little bit of help from someone else: just ask them to pull out your lanyard!
Price Range for Swiss Army Knives
There are different types of knives in the market. Although they have similar features, their prices vary depending on factors such as quality and brand name. Because there is a wide range of brands that produce pocket knives with various price tags, it might be difficult to choose one if you do not know what to look for or how much you can afford to spend. If your budget allows, then get ready for an adventure into high-end multi-tools! 
The most expensive Swiss army knives are those that come with stainless steel blades and handles. These items can be priced anywhere between $100 to over $500 which is considered as an investment since these pocketknives last for a lifetime. If you want your first multi-tool, then consider buying one of the cheapest ones available in the market that only costs around $40-$60. 
How to use a Swiss Army Knife for EDC?
Swiss army knives are very practical and can be used for a wide range of activities. They allow you to easily open packages, cut ropes or cables, tighten up screws in your home or boat. But there's so much more! 
Swiss Army knives for EDC (everyday carry) can be very useful at home or in the wild as well. If you need to open a package, cut some string, tighten up screws and even fix your boat – there's really no limit with these little tools! 
The best Swiss army knife has several features that make it an invaluable accessory: 
it is compact and lightweight enough to always have on hand; 

extremely versatile and durable; 

comes equipped with many different accessories such as scissors and other mini-tools;

easy-to-use locking mechanism which protects users from accidents;
Care and Maintenance:
Clean it before and after every use.

This will help keep dirt, dust, or other particles from getting inside the hinge of your folding knives. In addition, using a lubricant can help prevent corrosion on blades and tools made with stainless steel.

Lithium grease is recommended for this purpose

because when used regularly, the oil helps protect these areas from rusting. As well as preventing future damage to your blade –

regular cleanings have been proven to lengthen blade life

! So even if you don't need to take apart all parts in order to do a full-on deep cleaning, just taking five minutes out of time to wipe everything down can go a long way;

Clean your multi tools outside of the knife blade.

Trying to clean anything with a sharp edge can be very dangerous, especially if you are not familiar with knives or know how to properly use them. Use caution when trying to detach blades for cleaning purposes –

Swiss army knives don't always come apart easily and may require the force that could cause an injury

. So it is a best practice just to avoid taking off any parts at all unless there's some sort of real damage happening on the tool itself;

Be sure everything is dry before reassembling your Swiss army knife

after washing it thoroughly in warm soapy water. This will help prevent rusting inside hinges since this area doesn't get aired out as often as others do. When using lubricant, just be sure to use a very small amount;

When applying oil or lubricant, try not to get any on the exterior of knife blades

. This can sometimes cause discoloration and spots where you don't want them. If this does happen by mistake, take some fine steel wool and buff it out carefully – using too much force could damage your blade's finish so be careful about how hard you scrub the spot(s) down;

Keep them away from water at all times when they're not being used

(and avoid dropping even if dry). This means no throwing them in your car's glove compartment or leaving it on the kitchen table;

Keep sharp knives locked away, out of sight, and reach from children at all times

. Even if they are not exposed to water – keeping blades hidden reduces the risk that someone might get hurt by mistake (or intentionally). So be sure there is a safe place for you to store this kind of dangerous item before putting one into use around your home;
FAQ
What does the phrase Swiss Army knife mean?
The term Swiss Army knife was coined by American soldiers after World War II due to the difficulty they had in pronouncing "Offiziersmesser", which is German for 'officers' knife'. It has come to represent a pocket multi-tool with multiple functions such as pliers, scissors, and knives.
Swiss army knives are designed differently than most other tools because of their ease of use and portability. Their blades fold into the handle so you don't have sharp edges when carrying or storing them. When buying your first Swiss army knife, it's important that you select one that suits your needs based on size and number of features available – if possible choose one from the top five list!
Which Swiss Army knife is best for EDC?
Well, it all depends on your needs. There are many knives out there with different types of blades and tools so you can't really say one model fits them all. You need to know first the basic things you want from your knife and then pick one that has those features. 
Is a Swiss Army knife a good EDC?
Yes, a Swiss army knife is a great tool to have at hand for both survival and everyday purposes.  They are compact, lightweight, and offer multiple tools for various tasks. While not designed specifically as a tactical tool, they can make great additions to your EDC (everyday carry) gear if you know what to look for in them. 
However, it is important to note that Swiss army knives should generally be considered secondary or backup tools only because of their fixed blades.
A good rule of thumb when looking at picking out the best Swiss army knife is to try and pick one with several functions but opt instead for models with pliers which will give you more utility than those without them. If this isn't possible then consider getting two separate pocket knives so that you have both options available. 
Are Swiss Army knives worth the money?
The answer is yes, they definitely are! First of all, they come with so many functions that you will surely find them handy in most situations. Most importantly, their build quality and durability make them a good investment for years to come. 
What pocket knife do Navy SEALs carry?
One of the most popular choices of the United States Navy SEALs is the CRKT M21-14DSSF folding knife. According to them, it has an excellent design and quality materials that can ensure your safety in any weather conditions. 
How much is a Swiss knife?
A Swiss knife is a handy tool that offers different functions. It can be used for cutting, opening cans and bottles, or even as a flashlight in the dark! Most of them are made from stainless steel which makes the knives strong enough to cut through anything. This item comes with an average price tag depending on its design and features. 
A basic Swiss knife will cost around $15 while more expensive ones can be up to several hundred dollars.
What else is like a Swiss Army Knife?
Other knives function similarly to the Swiss Army Knife. The main difference is that these tools usually don't have all of the features, or they aren't very good at operating some of them. 
For example, the SOG Powerlock has a nice set of blades and can handle tasks like coring an apple pretty well for its size. 
However, it won't really do much else useful on top of those functions unless you're trying to cut something up with your nails or maybe open plastic packaging (which isn't great either). If you want more general-purpose use out of your toolkit though then this might be worth tracking down as it comes in around half the price tag too! 
What is the biggest Swiss Army knife?
The biggest Swiss Army Knife is the "Swiss Champ" which has 33 functions.
What's the most expensive Swiss Army Knife?
The Victorinox Swiss Army Spartan Pocket Knife is one of the most expensive of all the knives out there. You can find it online for between $100 and $200.
Useful Video: 7 Best Swiss Army Knives for EDC 2021 | Best Swiss Army Knife*
Final thoughts 
With careful consideration, you can find the perfect Swiss army knife for EDC. Hopefully, this guide has been helpful and informative as we tried to answer one of our most frequently asked questions. If anything is unclear or if there's something else that you want us to cover in future blog posts, please let us know! Happy reading and shopping!
---